Give a Twirl for ModCloth
March 28, 2014
by — Posted in Fashion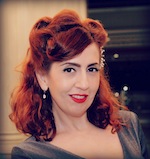 Are you so happy it's spring you want to just through you arms out and spin around in the warmth of the sunshine? That happy gesture could win you a $350 gift card to ModCloth*!
Enter ModCloth's 'Twirl Around the World Contest' by snapping a photo of yourself twirling in your favorite spring ensemble and upload to their Style Gallery or post on your Instagram account with the hashtag #modtwirl. Videos will also be considered on Instagram. Contest ends 3/31 at 10 a.m. PT. One Instagram winner and one Style Gallery winner will be chosen on 3/31 by EOD.
I love ModCloth's Style Gallery – it's so inspiring to see how people show their personal style – and I've discovered some really great blogs and fashion entrepreneur sites because most of the Style Gallery photos include a link to the person's personal website. There are some really creative people on there! Plus, ModCloth adds links to items on their site that are similar to the outfits pictured, which makes me want to shop, shop, shop from ModCloth's great selection of retro-inspired women's fashions.  Brilliant! Here are a couple of my Style Gallery favorites:
Happy twirling!
Kastle
See *disclosure
I am not affiliated with or sponsored by any advertisements shown below. They are placed by WordPress.
Tags:
Fashion
,
ModCloth
,
spring fashion