Stylish Work Wardrobe
August 9, 2014
by — Posted in Fashion
I just landed a new job as Social Media Manager for a large corporation, and with that comes a whole new occasion to dress for. Unlike the casual culture of my past two jobs, my new job is more traditional business casual. But that doesn't mean dressing boring, at least not to me.
While my Ramones t-shirt may not work for this job, I've been thinking about what I can do to let my funky leanings and passion for vintage peek through to show my personality. Plus, it's a good excuse to go shopping and add some new pieces to my wardrobe that can also be worn outside the office.
Click the images to shop* the items below.
A Unique Blazer
I like jackets that have a unique cut, bold color or interesting print. I also love short tuxedo jackets for their tailored fit and slim lapels. Classic black blazers let my inner Chrissie Hynde come out.
Tops and Skirts
I love wearing a rock 'n' roll t-shirt with a blazer but I don't think it will fly at my new office. So I've been on the hunt for tops with fun prints – polka dots, stripes, houndstooth, florals, leopard — to add some texture to my layers. For skirts, nothing looks more polished than the timeless pencil skirt, hello Joan from "Mad Men"!
Shift Dresses
I love a good shift dress. One piece, zip and you're done. Plus you can dress them up for nighttime wear. I look for bold, solid colors and fun prints. Also, don't be afraid to layer and add texture. A striped jacket with a floral print can add an interesting twist.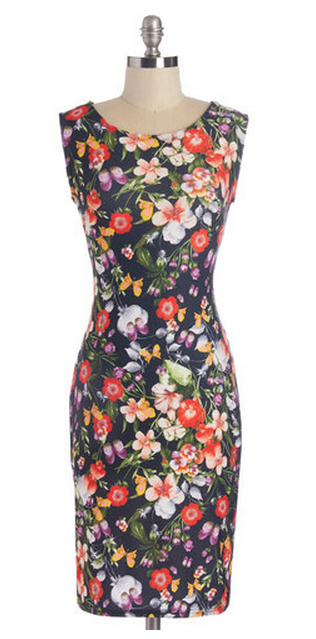 Stylish Shoes
Work shoes for me have to be comfortable. I save my sky-high stilettos for night's out – I just can't be in them for the long nine hours of a workday. I also look for shoes that are easy to slip on – fancy buckles are out because I'm usually racing out the door to get to work on time. But shoes are a great place to sneak in your funky style and for me, finding shoes that also go well with my vintage wardrobe is also a plus, like these from Modcloth by Bait Footwear: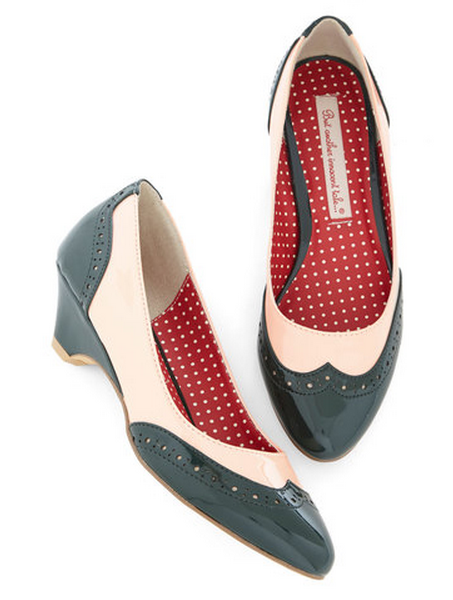 Statement Accessories
Accessories are really where you can let you personality shine. Lately I've been obsessing on statement necklaces. When the trend first started I didn't pay much attention to them and thought they were too garish. But then I found one I liked and I became addicted. Now I have several in different colors and styles. I'm also loving chiffon scarves at the moment. They add a pop color and style to any outfit.
Make the workplace your runway!
Kastle
See *disclosure
I am not affiliated with or sponsored by any advertisements shown below. They are placed by WordPress.
Tags:
stylish work clothes
,
work looks
,
work wardrobe