Morgan Spurlock: Art's New Blood
May 2, 2012
by — Posted in Event Reviews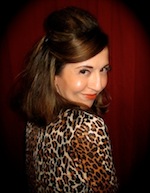 The last time I saw Morgan Spurlock, he was puking up a Big Mac on the side of the road. "Super Size Me," the film he made about the fast food industry by eating nothing but McDonalds' for 30 days, was brilliant. I also loved "What Would Jesus Buy?", a film he produced about the commercialism of Christmas and American's massive consumption of material objects. See my Yahoo! review here.
But who knew Morgan Spurlock was an art collector?
Apparently he's a big one and the good people at Thinkspace Gallery in Culver City thought enough of his taste for up 'n' coming talent to let him curate his own show. Spurlock put together a collection of artists he especially likes. In turn, he asked each of those artists to invite an artist they felt people should know about, thus, the appropriately titled show, "New Blood."
The show features work from:
Camille Rose Garcia / Travis Lampe, The Date Farmers / Albert Reyes, Dzine / Jesus Bubu Negron, Elizabeth McGrath / Morgan Slade, Gary Baseman / Jesse Dickenson, Gary Taxali / Adrian Forrow, Jonathan Yeo / Charlie Gouldsbrough (aka Ch-gh), Mark Jenkins / Sandra Fernandez, Nicola Verlato / Marco Mazzoni, Ron English / Kid Zoom, Saber / ZES, Shepard Fairey / Nicholas Bowers, Tim Biskup / Patrick Hruby,
Opening reception was packed with Hollywood hipsters, art scenesters and Spurlock himself looking clean-shaven and greeting attendees. And he's tall, you can't miss him in a crowd!
I was especially taken with Ron English's piece of Morgan Spurlock at the Last Supper with dinner guests Sarah Jessica Parker and Spongebob Square Pants. However, I wasn't sure what to make of the fur-covered man about to pee on a fire hydrant!
You can see a slideshow of the night by clicking the image below.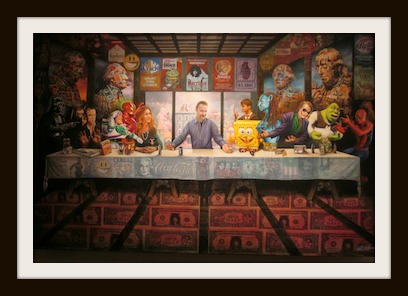 "New Blood" runs at Thinkspace Gallery through May 19.
Makes ya think,
K.
Morgan Spurlock
,
Ron English
,
Shepard Fairey
,
Super Size Me
,
Thinkspace Gallery
,
What Would Jesus Buy?