Goodbye Drew Bernstein of Lip Service Clothing
September 1, 2014
by — Posted in Event Reviews, Fashion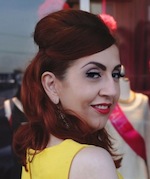 The club scene in the late '80s and through the '90s in Hollywood was the stuff rock 'n' roll history is made of. Clubs from Scream to Cathouse to Pretty Ugly set the stage for bands that became local legends and world famous – Guns N' Roses to name one you may know. It was a playground for the wild ones, the misfits and weirdos who loved to rock. Punk, goth and glam metal all collided. We were a rock 'n' roll movement. We dressed to the hilt, went out every night, all knew each other, rocked to bands until the wee hours and I don't remember sleeping much!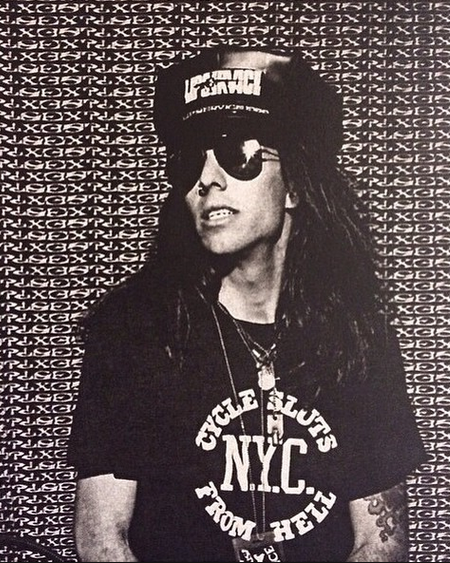 During it all, one scenester among us saw the calling to make clothes that embodied the energy we all felt and how we wanted to represent. Drew Bernstein founded the fashion line Lip Service in the late '80s with the simple desire to make cool stuff for cool people.
Tops made of fishnet, black leggings with white dagger silkscreened patterns, sexy vinyl dresses, bondage pants and those "Stretch F*ckin' Jeans" that every band member soon came to wear. He clothes were all over the clubs and soon all over MTV and all over the world. He would later go on to start the Kill City fashion line and rebranded his fashion empire under the name The Original Cult.
Last week we got the news that Drew Bernstein, at age 51, had passed away, by his own hand. The ripple of grief could be felt deep in our hearts as word spread across the web, on Facebook, and in publications including the LA Weekly and LA Times. One of us had fallen. I think we all found it hard to believe. Though many of us have left the club scene and gone on to start families, get "real jobs" and for lack of a better term, "grown up," inside we still feel, wild, cool and invincible. So it's unimaginable when one of us leaves us, and particularly difficult to grasp when it was his own choice.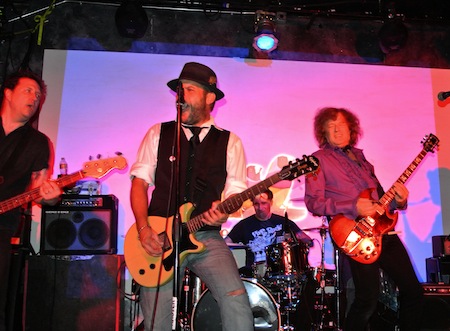 So it was only fitting to have one last rockin' night in Drew's honor. A night was quickly organized by scenester and former Lip Service employee, Jeffrey Damnit and a slew of bands jumped on board. The night turned into less of a memorial but more of a celebration of Drew, the music that inspired him, and a reunion of friends who hadn't seen each other in 10, (gasp) even 20 years!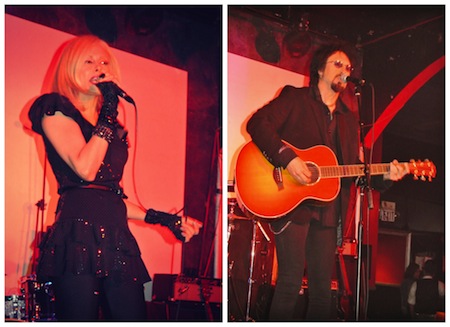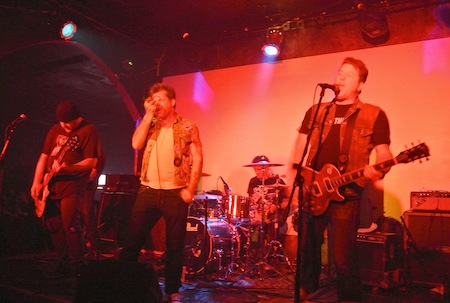 Up on stage, the bands rocked hard as ever with some of that familiar, dirty rock 'n' roll Hollywood is known for. On the bill was Vylette, Johnny Indovina, Jason Charles Miller of Godhead, The Atoms, The Street Walkin' Cheetah All Stars, Junkyard, Casper and the Bad Spirits and GNR tribute band, Hollywood Roses. Between sets, DJs Lina Lecaro and Michael Stewart spun a great mix of glam, rock and punk.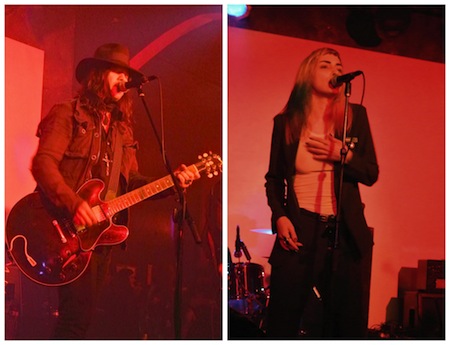 And as we all walked through the crowd, scanning faces with a "I remember you" look until the names registered in our memory and giving full-body bear hugs part in comfort for our loss and in joy of reunion, I swear for one second I thought I saw Drew in the crowd, bouncing through, giving pats on the back and hugs with his energetic swagger like he always did.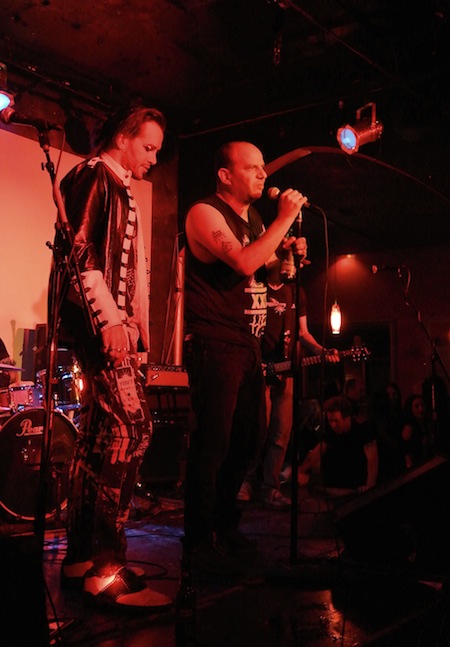 At one point during the night, Drew's brother Reed took the stage and thanked everyone for coming. He, along with many bands on stage, spoke of how we are all family. We've all shared in some amazing times in the clubs together, times other people could only dream they could have been a part of. But just as life gives us good times, it will gives us bad and we have to look out for each other. Suicide has been a popular point of discussion in the media recently with the passing of Robin Williams but Drew's death really brought it home for many of us. The moral of the night, if you think someone is in trouble, reach out to them.
I had the pleasure of interviewing Drew back in 2002 about his fashion line and I thought I would share a few quotes on his design evolution:
"I came to LA from San Francisco and I was jobless. My friend at Ape Leather asked me if I wanted to try selling belts around the Bay Area. I didn't know what I was doing. I just took some catalogs and went marching down Haight Street. I ended up selling about $800 worth of belts in one day. That was the most money I'd ever made. Turned out I was a pretty good salesmen!"
"I used to make T-shirts for my band but I wanted to try doing leggings with a print silkscreened on them. My friend asked me what I would put on them. I had a little dagger necklace on and I just said, 'Oh, something like this.'" I had them made and sold a batch to Retail Slut on Melrose. The next day they were sold out!"
See Lip Service Dagger Leggings
"I had a box of old and damaged clothes and I told Izzy [Guns N' Roses] he could have anything he wanted. He grabs this jacket that had "WAR" silkscreened all over it and he says, "WAR, W. Axl Rose! I'm gonna get this for Axl!' So Axl starts wearing it and next thing you know the cash registers are ringing! It went international!"
 "In the punk days, everyone wore tight black jeans. The materials then didn't have stretch in them so you'd alter them so they were tapered and pegged. After doing the leggings, everyone wanted stretch jeans because they were seeing it in England but I couldn't find the stretch material. People kept bugging me for them and I finally found the fabric and I was like, 'here's your stretch, f*ckin' jeans!' So that's what I called them, 'Stretch F*ckin' Jeans!'"
See Lip Service Black Stretch Jeans
Check out Lip Service Clothing.
RIP Drew.
If you, or someone you know, are having thoughts of suicide, call the Suicide Lifeline: 1-800-273-TALK(8255).
Kastle
Tags:
Drew Bernstein
,
Fashion
,
Lip Service