Bad Girls of the Art Deco Era
March 2, 2012
by — Posted in Fashion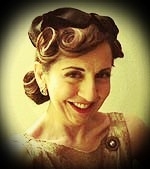 There are good girls and there are bad girls, and we all know who has more fun! It seems there were always bad girls, even in times before it was conceivable. I recently attended a lecture by Joan Renner, docent for the Los Angeles Conservancy and tour guide on LA's offbeat past for Esotouric. She's an expert in LA history from the 1900s to the 1950s with a particular fascination for criminology.  At the event "Felonious Flappers: Bad Girls of the Art Deco Era" at Hollywood's Egyptian Theatre, we learned of some of the baddest ladies of Los Angeles and the dastardly crimes they committed. According to Renner, women are less likely to do violent crimes than men, but these ladies did some pretty gruesome things!
The lecture was followed by a screening of "The Ladies They Talk About" (1933) starring Barbara Stanwyck, who plays Nan Taylor, one tough-talking broad who lands in the clinker and we get an idea of what prison life was like for the ladies in 1930s San Quentin, written by a true life bad girl Dorothy Mackaye about her time in prison for obstruction of justice stemming from a plot to cover up the murder of her husband — song and dance man Ray Raymond — by her lover and child star Paul Kelly.
The film is a great example of Stanwyck's talent as one strong dame. I loved seeing the fashions of the era – before she got fitted for her prison frock of course.  I learned from the lecture, there special provisions made for women in prison at that time – dress wear, cell decorating, even pet owernship!
You may have a hard time finding the film as it's out of print and Warner Bros. made a special version just for this event. There are a couple of clips available on YouTube:
[youtube http://www.youtube.com/watch?v=diOrap6dZpg]
From one bad girl (well, not that bad!),
K.
Barbara Stanwyck
,
Esotouric
,
Joan Renner
,
Ladies They Talk About
,
Los Angeles Conservancy
,
Paul Kelly