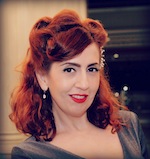 Valentine's Day is coming and if you want to wear a little something special to spice up your date night, I've got just the thing!
If your style leans to sophisticated seductress, there's only one place to shop for some sexy underthings and that's What Katie Did Lingerie* Elegant, with a nod to vintage glamour, this brand from the UK knows what makes a woman look like a woman. Try valentine-red pieces from the Rita or Marlene sets.(Search the drop down on their site under "Gold Label Collection.")
If your style is more playful, Modcloth* is the place for you. Try the easy-fit bralett with hearts in just the right places and heart-cutout panties for a little surprise from the back!
Have a fabulous Valentine's day!
Hearts and hugs,
Kastle
See *disclosure
I am not affiliated with or sponsored by any advertisements shown below. They are placed by WordPress.
Tags:
ModCloth
,
sexy lingerie
,
Valentines Day
,
Valentines lingerie
,
What Katie Did