Prima Donna: Bless This Mess
February 21, 2012
by — Posted in Event Reviews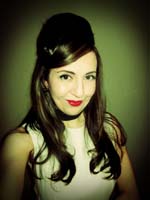 I was hanging out at the NoHo Arts Festival when I heard something that caught my attention over on the parking lot stage of the Federal Bar. As I walked closer, I saw the stage jumping with energy – skinny, shaggy-haired boys in drainpipe black jeans and black eyeliner. The big beats in the vein of Johnny Thunders and Bowie got my hips shakin' and I pulled out my camera. This is Prima Donna and this is my kind of band.  Singer Kevin Preston is all rock 'n' roll heartthrob, a born frontman with bad boy sex appeal with full command of the stage.
The new album "Bless This Mess" was just released on Acetate Records on Feb.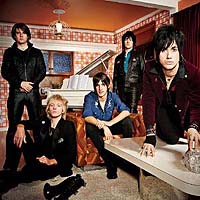 15 and it's chock-full of ruckus, anthemic, sax-stung, rock 'n' roll numbers that make ya want to drive faster, live faster. Produced by Chris Dugan (Green Day, Iggy Pop) and D. Sardy (Jet, Wolfmother, Oasis), it's clearly a melodic progression from their more raw previous effort, "After Hours."
While their albums will no doubt inject ya with a little bit of dirty attitude and make ya sing along with a Sid Vicious snarl, this band is a must-see live. They're on tour tearing up Europe at the moment, they'll be back in LA on April 27 at the Redwood. In the meantime, check out my pix from the NoHo Arts Festival Performance and their music video below: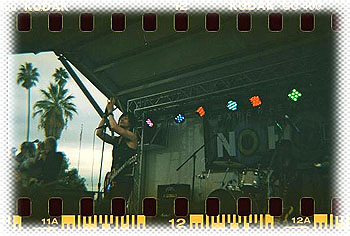 Prima Donna Photos – NoHo Arts Festival
[youtube http://www.youtube.com/watch?v=RqOeKl2dzwo]
Prima Donna Video – "I Don't Want You to Love Me"
Rock on,
K.
Bless this Mess
,
Chris Dugan
,
D. Sardy
,
Kevin Preston
,
NoHo Arts Festival
,
Prima Donna