Violent Lips and Eyes: Get Your Sparkle On!
January 4, 2013
by — Posted in Beauty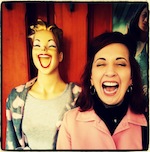 The holidays are over and it's always a bit sad when the decorations have to come down and everything looks so blah without the sparkle. I found a way to bring some festive spirit back – in your look! Check out Violent Lips and Eyes, glittery and patterned lip color and eyeshadow that is applied as a stick-on decal. I don't care how good you are with a makeup brush, you'll never get these looks yourself!  Violent Lips come in all kinds of animal prints, stripes, polka dots, even checkered.  Violent Eyes come in colored glitter and a Union Jack pattern. They are so much fun for an extreme look, a bold party statement or a costume/ theme look.
Shop the Glitteratti Mix Collection at ViolentLips.com*
Shop Violent Eyes at ViolentLips.com*
And with the Superbowl approaching, you can rock the colors of your favorite team with Game Day lips!*
animal print makeup
,
beauty blog
,
checkered makeup
,
decal eyeshadow
,
Football makeup
,
glitter eyeshadow
,
glitter lips
,
leopard print makeup
,
lip decals
,
stick on eyeshadow
,
Superbowl makeup
,
Violent Eyes
,
Violent Lips