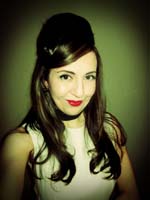 A much as I love the ritual of getting ready, putting on makeup, experimenting with color, trying a new look, using just the right makeup brush, sometimes I simply don't have time. As a working girl and blogger-about-town, there are occasions when I just need to rush out the door with my heels in my hands because I can't run fast enough. It's those times when little cosmetic shortcuts really come in handy. Find out my secret to "getting my face on" when I just don't have time, in the video below!
[youtube http://youtu.be/HWWPs3KXA2A]
The hurried glamourpuss,
Kastle
* Products mentioned in this blog were purchased by the author.  See Disclosure.
Beauty
,
beauty blog
,
Cosmetics
,
Kastle Waserman
,
LA Fashion blog
,
Makeup
,
makeup how-to
,
makeup tip
,
makeup video
,
sephora palette
,
vlog