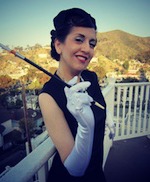 While cruising around online, I came across a  purse I couldn't stop thinking about – it looked like a cadillac! Made with glittery vinyl like the kind they used on klassic kar upholstery, with a company logo emblem that looked like a hood ornament, it was the kind of purse that makes even the most boring outfit look cool – that's not even mentioning the leopard print lining!
I found it in real life when I popped into Unique Vintage in Burbank. I must have driven past that store a million times and I finally went in. They had a great mix of vintage recreation clothing from brands such as Bernie Dexter, Heartbreaker and Lucky 13, shoes, and a whole men's department, including some amazing Ace Cafe Rocker Jackets I was tempted to pick up for my boyfriend.
But I was truly dazzled by the Lux de Ville purses. They come in glittery vinyl and an array of colors and style. I opted for a classic black and white sparkle Motor Tote. I LOVE this purse! It's big enough to put all my cameras in (I usually carry two or three) and my can't-leave-the-house without makeup.
It was prom season when I was there and the gowns section was packed with giggling girls trying things on. They have quite an assortment of dressy dresses if you have a special event coming up. Another super cute rare find is the large selection of retro swimsuits – just in time for summer!
With that said, I have a special offer* just for Stiletto City readers – click this link for Retro Swimwear up to 40% off from Unique-Vintage.com!
Enjoy summer in style!
Kastle
*Offer expires 4/12/14. Click here for disclaimer info.
Bernie Dexter
,
Clothing
,
LA Fashion blog
,
Lux de Ville
,
prom dresses
,
retro bathing suits
,
retro swimwear
,
Stiletto City
,
Unique Vintage
,
vintage inspired clothing