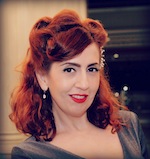 The winter months can not only leave your bones shaking but leave your skin feeling dry and flaky. Even here in sunny California where we escaped the Polar Vortex but not the Santa Ana winds (which can feel like walking into hairdryer) the weather can take every bit of moisture out of your skin. So put some back in! Here are some of my favorite moisturizers* for the winter – and year round!
Face – Day
Clinique Even Better Skin Tone Correcting Moisturizer Broad Spectrum SPF 20
This lightweight moisturizer keeps skin soft and protects it from daytime UV rays (yes, you can still get sun damage in the winter, even on cloudy days!) Plus, it has the bonus power of correcting hyperpigmentation and exfoliating to keep skin from future darkening.
Face – Night
Lancôme High Résolution Night Refill-3X™
Let your skin repair itself as you sleep, this rich cream drenches you face in triple anti-aging ingredients to improve softness, elasticity and reduce fine lines.
Eyes
Lancôme High Résolution Eye Refill-3X™
My all-time favorite eye cream! This rich moisturizer stays dewy all night and quenches the delicate skin around your eyes, gently plumps skin to reduce fine lines and improves the appearance of dark circles.
Body
L'occitane Amande Firming & Smoothing Milk Concentrate
The smell of this cream alone is reason to buy it! But it also leaves skin silky smooth, feeling nourished and lightly scented with a delicious milky almond fragrance.
Lips
Jouer Cosmetics Lip Enhancer
Go beyond the everyday lip balm to this lip nourishing moisture cream. Leaves lips super soft, with a light pink tint and offers a gentle plumping action that reduces fine lines that can cause lipstick feathering.
Feet
Soap & Glory Heel Genius™ Amazing Foot Cream
Just because your feet are covered in warm sock isn't a reason to let them go. This specialized formula just for dryness-prone skin on your feet will fix them right up and leave them with a sweet floral scent.
Stay soft,
Kastle
I am not affiliated with or sponsored by any advertisements shown below. They are placed by WordPress.
Tags:
body moisturizer
,
face cream
,
face moisturizer
,
winter moisturizer