The PHAMExpo returned to Los Angeles last week and it was a full weekend of makeup and hair products, demos and some of the top beauty experts in the biz.
The whole two days was filled with so much eye candy, it was hard to know where to start and (for the sake of my credit card) when to stop, because all the makeup was on sale for deep discounts for makeup artists to load up their kits and bloggers like me to try new products to tell YOU all about it!
I had the pleasure of meeting two of my favorite YouTube vloggers – Sam and Nic Chapmen from PixiWoo and Marlena from Makeup Geek.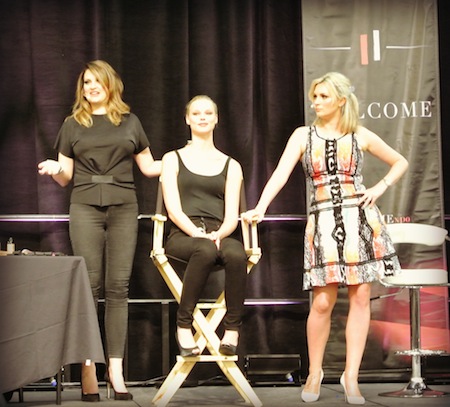 The Pixiwoo girls were there to promote their line of professional makeup brushes with Real Techniques and did an onstage demo while telling the crowd how they got started as one of the early beauty vlogger channels back in 2008.
Marlena from Makeup Geek was there with her own line of makeup that I have been eager to try. I went home with four of her eyeshadaw colors. Look for a video review coming up in the next few days!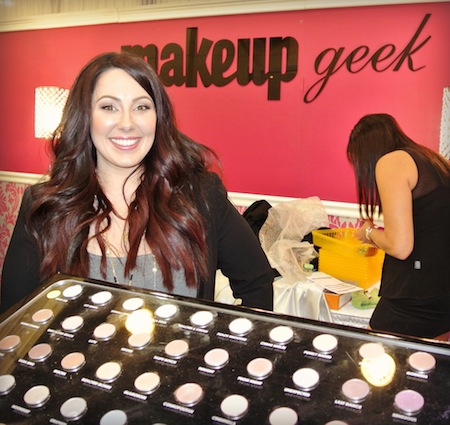 I also got a whirlwind taste of the styling of legendary hair artist Michael O'Rouke who must of cranked out hundreds of haircuts between his stage appearance and working his booth for his Rock Your Hair product line. Michael is all about bringing back rockin' big hair that falls with the natural angles of the head and face. He was also incredibly inspiring, at one point jumping off stage and walking into the audience to tell them they could anything and be anyone they wanted to be because he was living proof. I bought a few of his products and I'm loving them so far!
Another hair demo hit the stage with the power team of Scott Barnes and Frank Galasso who shared their trade secrets of creating BIG hair (with the help of a headful of hair extensions and generous amounts of hairpray) and a dramatic makeup look. I picked up some good tips on contouring as well.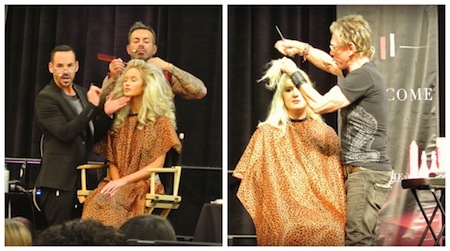 Speaking of contouring, one of my favorite makeup artists Cory Bishop held a seminar of contouring in the one of the side stages while representing Gorgeous Cosmetics. I became a fan of Cory's when I met him last year after his demo for Stila products. This guy is knowledgeable about makeup!
You could tell who were the real crowd pleasers at the show by the long lines at the booths. As with last year, the Lime Crime booth had constant long lines to buy their products and their big, bright Lime Crime bags could be seen proudly in the hands of girls everywhere. When founder Doe Deere took the main stage to talk about the building a cult brand – with her colorful trademark look of extreme, doll-like cuteness  and colorful hair and makeup – it was standing room only as every seat was filled and every nearby space was taken up with their intensely loyal following clamoring to hear every word she said.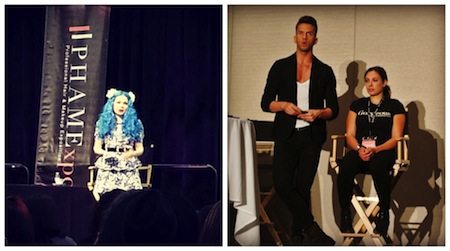 One of my high points of the weekend came when I spotted celebrity makeup artist Brett Freedman working his magic on a customer with his Brett Brow Vanity Mark eyebrow products. As I checked his product line, I was delighted when he asked if I would like a brow makeover. I knew of Brett from my pals over the Pinup Girl Boutique where they sell (and rave about) his products. And you know those girls have the best brows in town! Brett was sweet, fun and professional as he went at whipping my brows in shape and helping me find the right color products to go with my red hair. I was absolutely loving my brows when he was done! See the before and after below.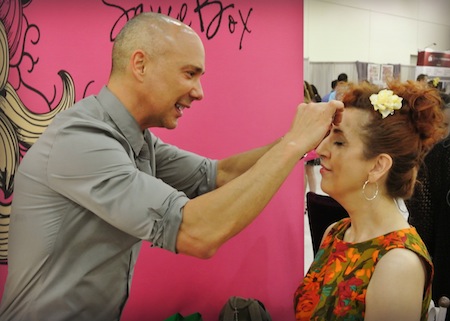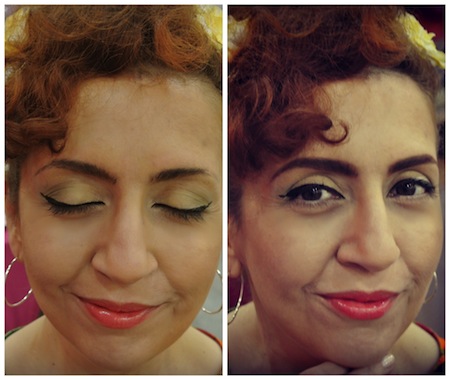 So I can say my PHAMExpo Weekend was quite a success. Stay tuned for my PHAMExpo haul video coming soon where I'll share all the exciting new products I bought.
Beauty is as beauty does,
Kastle
Tags:
Brett Brow
,
Brett Freedman
,
Cory Bishop
,
Doe Deere
,
Frank Galasso
,
Lime Crime
,
makeup geek
,
Michael O' Rouke
,
PHAMExp
,
Pixiwoo
,
Real Techniques
,
Rock Your Hair
,
Scott Barnes
,
Vanity Mark