A Night with a Beatle
July 24, 2012
by — Posted in Event Reviews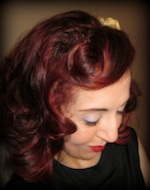 I don't think I could be a fan of the '60s era without loving the Beatles. In fact, I don't think I could be alive and not love the Beatles. So I was pretty excited when I had a chance to go see Ringo Starr and his All "Starr" band at the Greek Theatre this past weekend.
It was a perfect summer evening to see a show nestled in the trees of Griffith Park. Ringo was in full effect and it's hard to believe he's 72. He looks a man of age 50 and has the energy of a little kid, smiling widely, telling jokes and doing his boppy, swinging arm dance, punctuating his between-song banter with shouts of "peace and love!" I adored him!
His All "Starr" band included Todd Rundgren, Toto's Steve Lukather, Santana/Journey keyboardist Gregg Rolie, Mr. Mister singer/bassist Richard Page, drummer Gregg Bissonette and sax player/percussionist Mark Rivera.
Ringo took turns sharing frontman duties with the rest of his band, who each got a chance to bust out some of their best hits. And there were a few surprises, firstly, Joe Walsh who came out and did a down 'n' dirty version of "Rocky Mountain Way," and then the finale when Ringo called on a "little help from his friends" and was joined on stage by Peter Frampton, Jeff Lynne, Edgar Winter, Micky Dolenz of the Monkees, Gary Wright, Guns N' Roses/Velvet Revolver drummer Matt Sorum and others.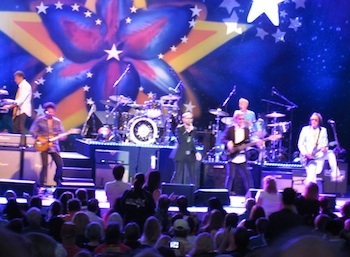 All-in-all it was such a joyful night. I must say, now I know why these songs are classic hits – I knew them all and had a really good time singing along!
Beatle
,
Greek Theatre
,
Gregg Bissonette
,
Gregg Rolie
,
Guns N' Roses
,
Jeff Lynne
,
Joe Walsh
,
Mark Rivera
,
Matt Sorum
,
Micky Dolenz
,
Monkees
,
Peter Frampton
,
Richard Page
,
Ringo Starr
,
Steve Lukather
,
Todd Rundgren
,
Toto
,
Velvet Revolver