ModCloth Design A Scarf Print Contest
May 23, 2014
by — Posted in Fashion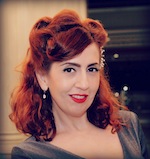 **This post contains affiliate links and I will be compensated if you make a purchase after clicking on my links*. 

ModCloth is launching its second Make the Cut Contest of the year! Not familiar with Make the Cut? It's a fashion design contest, and in this edition, they're giving contestants a template on which to create a print pattern for a scarf. The talented winner will have their design produced by and sold on ModCloth, plus they'll receive a $500 prize! But first, the top 10 submissions will be hosted on the Be the Buyer page, where the community will vote for their faves. Design submissions will be accepted now until Friday, 5/30, and the voting begins on Monday, 6/9. Official contest rules can be found here.
Need some inspiration. Check out some of the cute printed scarves currently on the ModCloth site:
Good luck!
Kastle
See *disclosure
I am not affiliated with or sponsored by any advertisements shown below. They are placed by WordPress.
Tags:
Accessories
,
Contest
,
design
,
Fashion
,
fashion design
,
ModCloth
,
scarf
,
women's apparel
,
Women's Fashion