Staying home in quarantine can be trying. But I have to say, I've been enjoying the slowdown, despite the fear of a deadly pandemic. It's given me time to dig into some great literature and do some reading, plus expand my vintage and thrifted fashion styling skills to put together outfits shopped from my closet.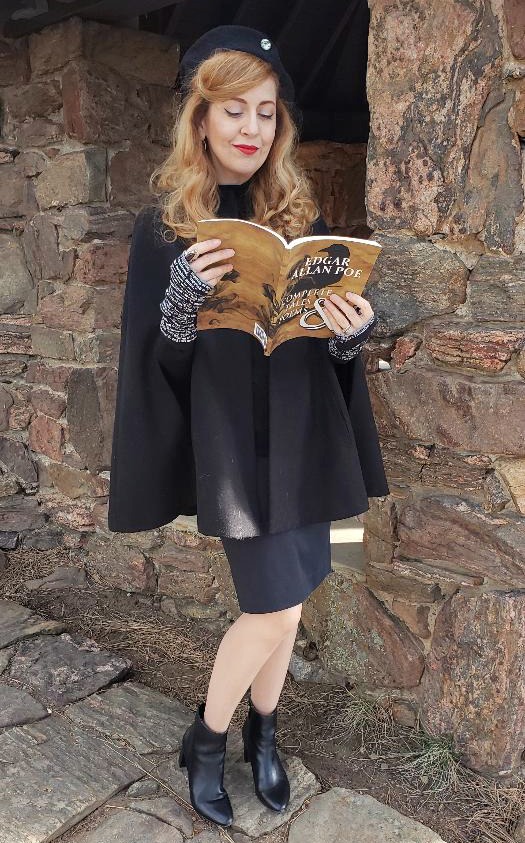 If you are a book and vintage fashion lover, here's some inspiration to merge both your passions together to wear your two loves on your sleeve, literally.
The Raven
Edgar Allen Poe's poetry may be perfect for these dark days. Over Christmas, I received a pair of writing gloves made by Storiarts that feature a print of The Raven poem. These light cotton gloves are a great conversation starter and perfect for taking a light chill off between the seasons or just as a fashion accessory. They brought out a bit of my gothic sensibility when I paired them with a black wool cape, a lightweight mock turtleneck, pencil skirt, ankle booties and beret with a Raven pin.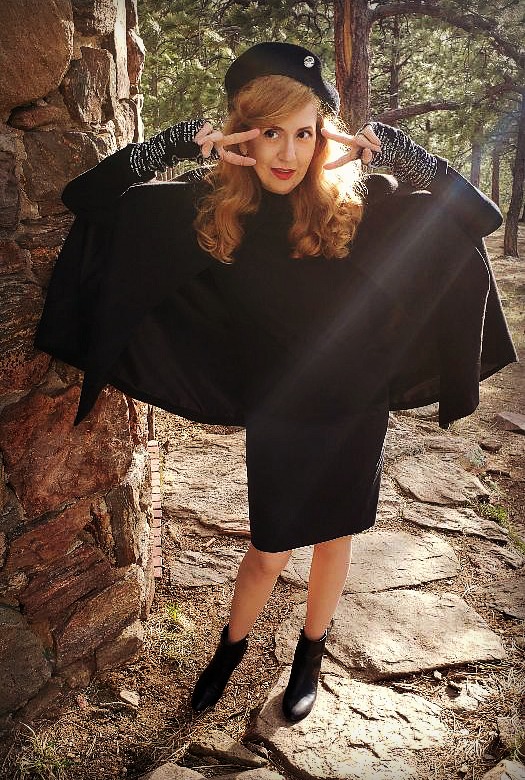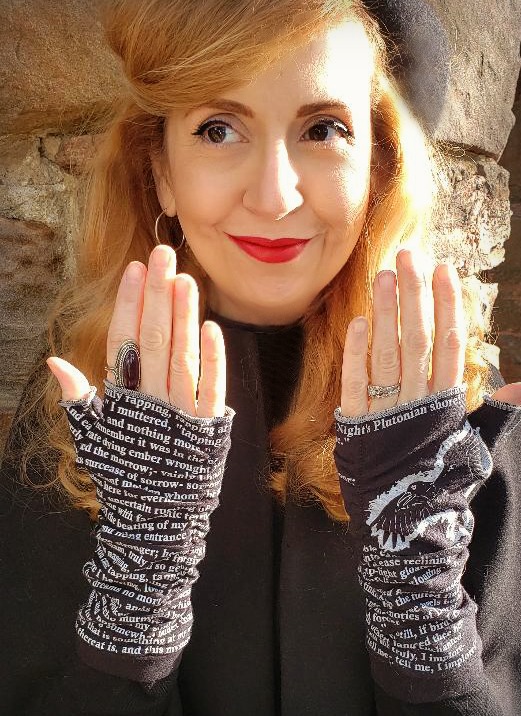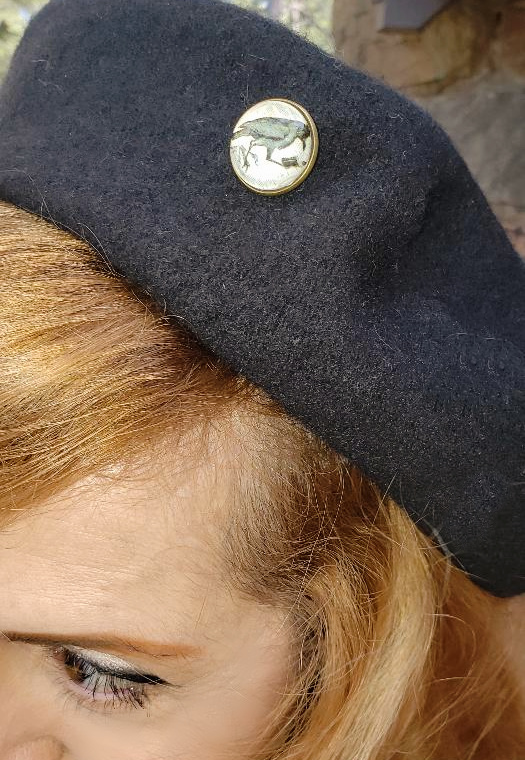 Little Women
I'll admit, I never read this book in my youth. I don't know how I missed it, but I was all over it when the latest movie adaptation came out. I love the coming of age stories of the sisters and the family dynamic. And like so many strong, creative women, I identified with the willful spirit of the writer, Joe March. So I put together a Joe March look with a vintage button-down shirt, thrifted vest and jacket, vintage reproduction circle skirt, a pair of all-purpose boots, and her signature red in a vintage scarf.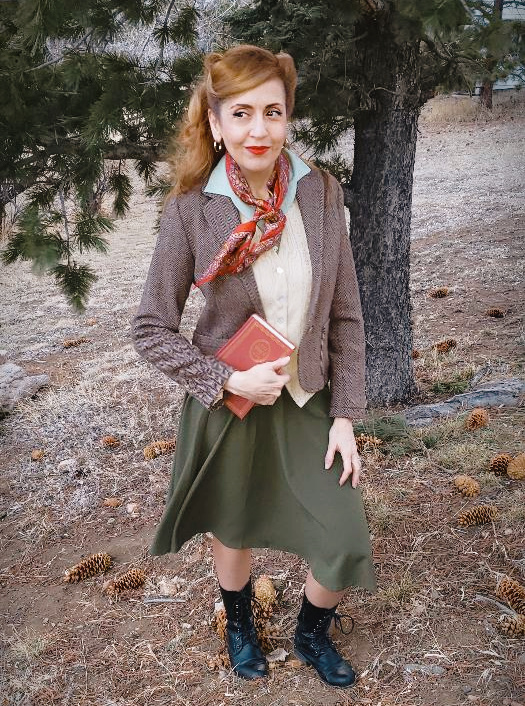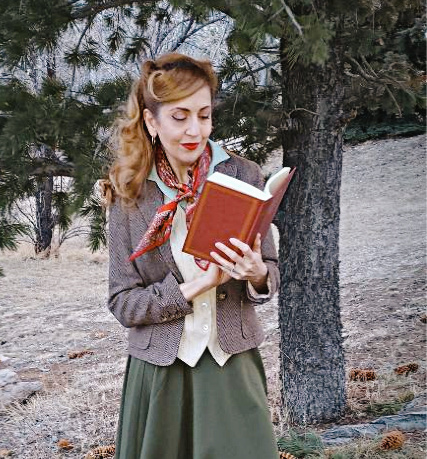 The Wind in the Willows
Another children's book I missed out on. (Seriously, what was going on in my school days?) This British classic is a dreamy adventure from an animal's perspective, but the characters will remind you of people you know. I became aware of the book because it is a favorite of the singer from the band, The Waterboys, who I had the great pleasure of interviewing last year. On their latest album, he reads a passage from the book that is just lovely. So when I spotted a Wind in the Willows print scarf from British Etsy shop Rooby Lane, I had to have it. It features delightful illustrations and stylized writing. I paired it with a vintage floral dress, thrifted velvet blazer and vintage moon brooch as little tribute to another great Waterboy's song, "The Whole of the Moon." So it's a literature meets music-inspired fashion mashup!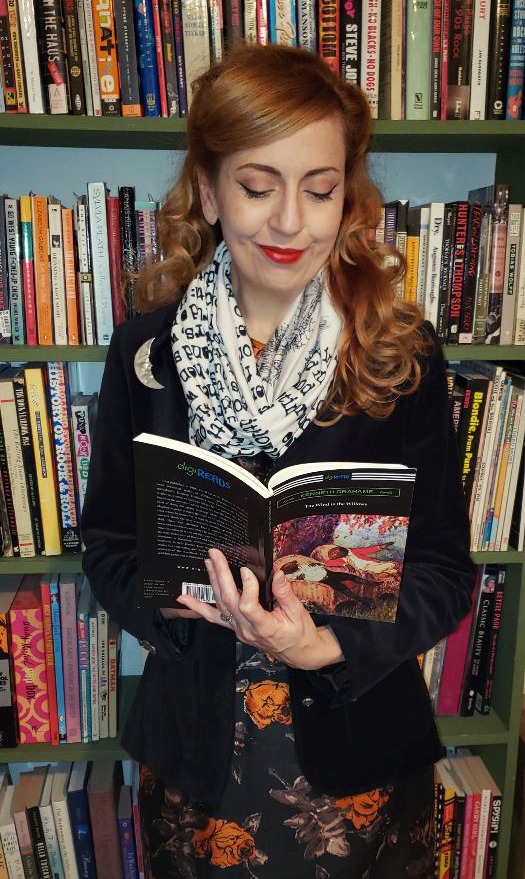 What books have you been reading during quarantine? Here's a list of mine (yes, I'm the type that always has two or three books in rotation!)
"I Was Told There'd Be Cake" by Sloan Crosley – funny, sarcastic humor in a conversational voice. Essays on the ironies of life.
"Rayne & Delilah's Midnite Matinee" by Jeff Zentner– a young adult coming-of-age story about two BFF girls in high school who make a public access show reviewing horror movies. Great dialogue, funny and heartbreaking at the same time.
"Big Magic" (re-read) and "City of Girls" by Elizabeth Gilbert – one of the best books on a creative life ever written and the latest novel about a girl finding her way via New York in the 1940s that provides a nice frothy escape from current events.
"How to Grow Up" by Michelle Tea –essays on some hard lessons learned on the road to adulating written in a funny, accessible, street-smart voice.
"Dress Your Family in Corduroy and Denim" by David Sedaris – classic humor about his family quirks is all we need in our troubled times.
Take advantage of your time staying at home by diving into a good book. And be sure to check out more of my outfits of the day (OOTDs) on my Instagram page.
Until next time.
Stay safe,
Kastle